Does EFT Tapping Therapy Really Work?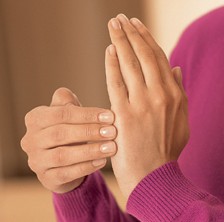 Does EFT Tapping Really Work?
In this article, you will learn all you need to know about EFT Tapping Therapy, how it works, the process involved, and more.
The aroma of filter coffee and its lingering taste soothed me for a while but did not lift my headache. The one word that kept bouncing inside my head was "Freedom."
It made so much sense. All I craved for was freedom from these everyday headaches. While I was lost in these thoughts, my friend walked in.
As we sat chatting over a cup of coffee, I brought up the topic of my frequent headaches. Quickly, she started asking questions, and with my permission, she mildly tapped on some points on my face and hands, and asked me to repeat a few phrases.
It all seemed weird, but surprisingly, my headache finally seemed to be lifting. I was yawning away into that never-imagined relaxed mode within a few minutes. I made a mental note to ask her all about this talk-and-tap technique.
The next day was a bright Sunday morning, and I was all set to know everything about this technique. My friend was a trained therapist.
I had so many questions and she answered them while she briefed me all about Emotional Freedom Techniques (EFT).
What is EFT tapping?
EFT Tapping is a powerful and one of the most effective energy healing techniques, that combines tapping on specific points and repeating specific phrases aloud.
This tap-while-you-talk method has been clinically proven to clear physical discomfort, relieve stress, and free you from your emotional trauma.
The basic theory behind EFT Tapping is that it works on the disruptions in your body's energy system.
The energy system consists of interconnected pathways that run throughout your body and through all major organs.
These pathways are also referred to as energy channels or meridians, which form a network in the body. Energy, also referred to as prana, qi, or chi flows through this network.
Disruptions in this energy system can result in negative emotions and behaviours, coupled with physical discomfort. Specific points along the meridians are used to balance the energy flow in the body.
Some techniques to balance this energy flow are as follows:
| | |
| --- | --- |
| Technique | Process |
| Acupuncture | Insert needles on specific points along the meridians |
| Acupressure | Use manual pressure to activate specific points along the meridian |
| EFT Tapping | Use fingers to tap on specific points while repeating certain phrases aloud |
Now, it might seem funny and strange to tap and talk out loud. You may be wondering, "How does this help me?" Let's delve a little deeper.
---
"Anything you want, can come true if you cast it in the form of a "golden goal" and apply EFT to get clear and activate it."
Caryl Westmore
---
New to EFT?
Learn how Emotional Freedom Technique Tapping heals, including
Anxiety.
Emotional Freedom Techniques (tapping) is

clinically proven

to lower stress, tension, anxiety, past trauma to enable health, happiness and vitality.
What does EFT Tapping do?
My teacher bashing and humiliating me for not being able to draw straight lines in my Geometry class is a distressing childhood memory. It made me sad (a negative emotion), and also made me believe that "I'm not good enough" (a negative belief).
Such distressing memories can cause a disruption in the body's energy system, which in turn causes negative emotions and negative limiting beliefs. In other words, the energy block causes a mental block.
Tapping is somatic. As you tap on specific points on your body and repeat certain phrases loudly, it directs kinetic energy through all the blocked meridians and clears the energy system to give relief from emotional or physical distress.
After the block is cleared through EFT tapping, the negative emotional charge disappears, which in turn results in a cognitive shift that dissolves the negative beliefs.
EFT Tapping adds to your overall well-being by:
Freeing you from negative emotions and distressing memories

Re-wiring the energy system

Restoring balance in the energy flow

Creating a feeling of peace and calmness, which allows you to let go and move on in life

Creating a change in your brain's neural connections so that the calming effect lasts over time
How does Talking Aloud Help?
Tapping on the points clears the energy system while talking out aloud helps you in tuning in to the actual emotional or physical distress. The benefits of verbalising your words aloud are as follows:
Speaking out the initial phrase lets your brain know the specific issue that you are currently ready to resolve or tackle. It also lets you acknowledge the problem and accept yourself, regardless of the problem.

Repeating some phrases aloud helps your brain to stay tuned in to what you are addressing. These phrases act as reminders so that you don't drift away from the problem that you wish to resolve.
Why does EFT tapping Focus on the Negative?
After becoming a fan of positive affirmations, I couldn't digest repeating the negative phrases that defined my problem and destructive emotions.
The rationale behind this was to tune in to the memories and emotions that create the energy disruption. Tuning in and repeating them ultimately neutralises these negative emotions and leads to experiencing positive emotions naturally.
What are the Common Benefits of EFT tapping?
EFT tapping therapy works like magic for many situations, these include:
Pain Relief

Behavioural and performance issues in children

Fear and Phobias

Cravings

Physical and Emotional Discomforts
Emotional Freedom Techniques (tapping) is clinically proven to lower stress, tension, anxiety, and past trauma to bring about health, happiness, and vitality.
New to EFT? Learn how EFT Tapping heals
Emotional Freedom Techniques (tapping) is clinically proven to lower stress, tension, anxiety, past trauma to enable health, happiness and vitality.
does eft tapping work?
It seems hard to believe at first, when you haven't tried it yet, but yes, EFT Tapping does work. Emotional Freedom Techniques (EFT) is clinically proven to lower stress, and help with physical and emotional issues. The table below provides a gist of clinical studies and testimonials from people who have used EFT Tapping to work through their disorders:
Distress

Results after EFT Tapping Sessions

Clinical Studies

Traumatic memories in abused adolescents

Single session reduced the impact of the event by 92%

Depression

Reduction in depression by 73% in college students after four 90-minute EFT sessions

Average/low athletic performance

Performance improved by 26% after 15-minute sessions

Fibromyalgia

Improvement in:

Pain

Depression

Anxiety

Mental Health

PTSD

Significant improvements in pain, depression, and anxiety after 6 sessions of EFT coaching supplementary to primary care

86% were free from PTSD after 6 sessions

Insomnia

Significant improvement in insomnia—severity, anxiety, and life satisfaction after 8 sessions of EFT Tapping

Testimonials

Fears and phobias

Gave up fear of gas cylinders (1)

Cravings

Gave up chocolate cravings after one session (2)

Traumatic Past

Was able to let go of the traumatic past (3)
To understand how EFT Tapping has worked in various scenarios, including the above-mentioned disorders, refer to the EFT clinical studies that include scientific evidence, clinical reports, review papers, and outcome studies conducted by researchers around the world about lowering:
Stress

Anxiety

Fears and Phobias

Cravings

Exam nerves

Depression

Inability to sleep
There is clinical proof behind the effectiveness of EFT as a potent adjunct to reducing the severity of general psychological distress.
Many clinical studies conducted over weeks showed that fears, behavioural issues, addictions, and many other unwanted emotions of multi-dimensional and complex nature can be effectively eliminated using EFT, providing long-term results.
Learn the exact steps on how to use EFT to eliminate unwanted emotions or behaviours and to stop the issue during an introduction to EFT.
Now that you know that EFT Tapping works, I bet you want to have a taste of the EFT tapping therapy. There are many options, which include:
Connecting with someone to understand if this is the right type of therapy for you

Attending complimentary seminars, training, and masterclasses

Booking a session for yourself or your loved ones

Learning EFT Tapping for:

self-work, or

to become a practitioner and help others
What are your Next Steps?
Important: We advise you to contact trained professionals.
What happens when you connect with a professional to learn more about EFT Tapping?
Trained and certified coaches can provide all the information you need about EFT Tapping. You can book a discovery call to understand the ABCs of EFT Tapping and decide how to proceed.
You can also attend complimentary seminars and discover the power of EFT Tapping group sessions.
What happens when you book a session?
When you book a session with a trained and certified practitioner, you are asked to fill an intake form with all your details, including the reason for the session and take it forward from there.
Typically, therapists suggest a maximum of 6 sessions; however, it varies from case to case.
Your first session might last an hour and a half, which typically involves:
Identifying the problem and all associated feelings related to it, including the intensity on a scale of 1 to 10.
Note: If it's an emotional problem, you can tune into the memory and identify how you felt. If it is physical discomfort, you can assess the pain or tension in the body.

Tapping by using an initial phrase and a few repetitive phrases based on your words.

The tapping points are as follows:

1 - Top of head
2 - Eyebrow
3 - Side of the eye
4 - Under the eye
5 - Under the nose
6 - Chin
7 - Collarbone
8 - Underarm
9 - Karate chop
10 - Sore spots
Testing, after a round of tapping.
Important: After tapping, it is recommended to drink a glass of water in order to flush out the released toxins.
HOW TO SELF-HEAL & BECOME AN EFT PRACTITIONER
Discover how EFT can help you to self-heal or become professionally qualified as a Certified EFT Practitioner. Emotional Freedom Techniques (tapping) is clinically proven to lower stress, tension, anxiety, past trauma to enable health, happiness and vitality.
What happens when you choose to learn EFT tapping?
When you choose to learn EFT Tapping, you have two options:
Learn to self-heal

Learn to be a practitioner
Learn to self-heal
Whatever issue drew you to learn EFT Tapping, it is probably your best decision. So, please consider using EFT Tapping as a long-term investment program for emotional well-being.
Regularly using EFT Tapping for your personal peace is the best gift you can give yourself.
Learn to be a practitioner
You might be a therapist looking to update your skills or a newbie looking to start as a practitioner.
EFT Tapping is one of the skills that would help you, your present, and future clients who are looking to gain to emotional freedom to feel more vibrant, healthy, and happy.
Now, that you know all about how EFT Tapping works, let's take a sneak peek into the history of EFT Tapping.
All energy therapies can trace their earliest origins to acupressure and shiatsu.
The graphic below shows how EFT Tapping evolved.
Thanks to Gary Craig, we have this long-lasting, rapid, and gentle tool to free humanity from emotional and physical distress.
Quick Recap
Here's a quick summary:
· EFT Tapping is an easy-to-learn healing technique that provides effective results for emotional, physical, and performance issues.
· EFT Tapping operates on the following rationale:
1. All issues are related to unresolved emotional distress.
2. Clearing the emotional distress by clearing the blocks in the body's energy system resolves the issue.
· Gary Craig developed EFT Tapping in 1997, a Stanford engineer turned personal trainer. It evolved from ancient techniques such as Acupuncture, Acupressure, and Thought Field Therapy. It integrates the ancient sciences with modern-day psychology.
· Anyone can learn EFT Tapping, but learning from a professional trainer and getting certified, adds to your skills as:
1. An established therapist or
2. A newbie in the field of mental health, wellness, coaching, and healing
The real testimonial for you about the power of EFT Tapping is not hidden in research papers and clinical studies; it all depends on how well it works for you.
So, why wait, just book a session now and take the first step towards true 'Freedom'.
HOW TO SELF-HEAL & BECOME AN EFT PRACTITIONER
Discover how EFT can help you to self-heal or to become professionally qualified as a Certified EFT Practitioner. Emotional Freedom Techniques (tapping) is clinically proven to lower stress, tension, anxiety, past trauma to enable health, happiness and vitality.
---
Disclaimer: The information on this website is purely for educational purposes and does not in any way replace the requirement for medical and psychological diagnosis and treatment. Please seek professional medical and psychological diagnosis and advice for all medical and mental health conditions. It is advised to always book any consultations with qualified professionals.
---
Learn Emotional Freedom Techniques for self-healing or to become professionally qualified - More
Our other seminars:
For the full calendar of events.
---
Other articles you may be interested in:
Stress? 10 tips to lose stress and gain health
I am no longer haunted by my past EFT set me free!
But seriously...Does EFT actually work?
How to lose weight by eliminating cravings
Want to quit smoking? Learn how