My son started writing confidently by himself after EFT
The first experiences children have with drawing and writing will shape their writing development as well as their interest and enthusiasm for writing. But what happens at times is that they lack the confidence to write or draw well, despite the practice and hard work a parent and child puts in. In such a scenario, a parent must know that it's important for them to understand their children and spend more time.
Dentist Dr. Kavita Rudagi and her son faced a similar problem wherein he couldn't write without her help. Luckily she has learned Emotional Freedom Techniques (EFT) and was able to help her son overcome his writing difficulty.
"My son was very reluctant to write and was not confident until someone held his hand while writing. I did the EFT tapping on him for around 5 mins for 6 consecutive days. To my surprise,  he started writing on his own from the seventh day onwards. He can now write A to F and 1 to 5 all by himself. It worked like magic and he loves writing now. I feel so happy and grateful that I had this wonderful opportunity of learning from Rangana."
It is natural for any parent to be concerned. Dr Kavita attended a 3-day training in EFT that equipped her with skills to help her as a parent, to release her stress and to help her child to write.
Emotional Freedom Techniques is clinically proven to overcome stress, anxiety tensions, depression, cravings, pain, fears and phobias to create health, happiness and vitality.
During the 3 days EFT Practitioner Training, as attended by Dr. Kavita Rudagi, you will learn how to:
Eliminate stress, physical tension, pain and cravings
Clear negativity, negative emotions and situations
Transform past events, hurts, fears and limitations
Shift limiting beliefs to move towards what you want
Work with adults and children on real-life issues
Become qualified as a Practitioner
To find out more about Emotional Freedom Techniques Practitioner Training and how the training can help as part of a self-healing program or to become professionally qualified and make a difference in the lives of others and earn a living. 
For best results: Attending the 3-day Emotional Freedom Techniques training with a qualified Master Trainer or to booking a session with a professionally qualified and internationally certified practitioner is recommended.
Other articles you may be interested in:
Other seminars you might be interested in:
About the Trainer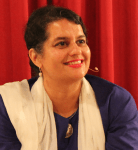 Dr. Rangana Rupavi Choudhuri (Ph.D.) is a dynamic international speaker and trainer. She loves being able to share alternate therapy and coaching skills that enable real and rapid transformations. With a Ph.D. in Cancer Research and her background in running a multi-billion dollar international business, she is currently the Founder of Vitality Living College. https://vitalitylivingcollege.info/about-us/our-founder/
Disclaimer: The information on this website is purely for educational purposes and does not in anyway replace the requirement for medical and psychological diagnosis and treatment. Please do seek professional medical and psychological diagnosis and advice for all medical and mental health conditions. It is advised to always book any consultations with qualified professionals.
Download a free booklet on how EFT can help achieve happiness and emotional freedom.
Learn more about Vitality Living College:https://vitalitylivingcollege.info/about-us/
For the latest schedule of all our courses, visit Calendar.