During the 3 days EFT Practitioner Training, as attended by Purnima Amin, you will also learn how to:
Shift limiting beliefs to move towards what you want
Work with adults and children on real life issues
Become qualified as a Practitioner
To find out more about Emotional Freedom Techniques (EFT Level 1 & 2) Practitioner Training and how the training can help as part of a self healing program or to become become professionally qualified and make a difference to the lives of others and earn a living. 
For best results: Attending the 3 day Emotional Freedom Techniques training with a qualified Master Trainer or to booking a session with a professionally qualified and internationally certified practitioner is recommended. Please e-mail us if you require either, help@vitalitylivingcollege.info.
Other articles you may be interested in:
Other seminars you might be interested in:
Disclaimer: If you have a medical condition, please visit your doctor and get a good medical diagnosis. The words on this blog do not replace the requirement for advice from a medical professional.
About the Author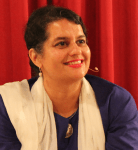 Dr Rangana Rupavi Choudhuri (PhD) is a dynamic international speaker and trainer. She loves being able to share alternate therapy and coaching skills that enable real and rapid transformations. With a PhD in Cancer Research and her background in running a multi-billion dollar international business, she is currently the Founder of Vitality Living College.https://vitalitylivingcollege.info/about-us/our-founder/
Learn more about Vitality Living College:https://vitalitylivingcollege.info/about-us/
For the latest schedule of all our courses, visit Calendar.
Download a free booklet on how EFT can help achieve happiness and emotional freedom.