I learnt to loosen my grip over years of grudges at the Journey
I learnt to loosen my grip over years of grudges at the Journey
Anger is an acid that can do more harm to the vessel in which it is stored than to anything on which it is poured. – Mark Twain
Most of us at some point in our lives have been hurt by the actions or words of people. Perhaps somebody criticised your skills and abilities, your colleague sabotaged a project or you've been cheated on by your partner. We bottle up our emotions of anger, bitterness or even vengeance after these events. There are times when we are angry at ourselves and forgiving ourselves becomes even more difficult.
The feeling of anger, like Twain said, damages your own body. You know how it feels to hold a grudge. Your muscles tense, your heart beats faster, you feel the rush in your blood, leaving you tired. Precisely, it makes your body and mind unhealthy. Loosen your grip on anger and grudge as years of pent up anger and grudges only manifest in dis-ease.
Set yourself free just as Part time teacher,  Amishi Kothari did after attending The Journey Seminar. "The journey has helped me clear a lot of physical and emotional clutter. Heal, help and forgive in the true sense. I learnt to free myself of my anger and past grudges.Forgiveness could be so simple was a true realisation today. It was an enlightening experience for me," says Amishi.
Since The Journey Seminars has been made available in 36 countries around the world it has helped thousands of people worldwide free themselves, for example:
Fear, worry, stress and anxiety vanishes
Depression clears
Low self-esteem and lack of confidence transforms
Chronic anger and rage comes to peace
Physical illnesses and diseases heal
Addictions and unhealthy behaviours shift
Past traumas and hurts resolve
Verbal, physical and sexual abuse heal
Relationship problems clear
Career performance increases
Spiritual realisations and developments accelerate
During the initial 3 day Journey seminar attended by Amishi Kothari, you will learn how to:
Overcome emotional and physical issues
Awaken the inner healing potential
Open into unconditional love, peace and oneness
Find out more about The Journey Seminar and how it might help you heal from within and how you might be able to share this powerful technique used by millions work-wide to help others. 
For best results: Attending the Journey seminar with a presenter appointed by Brandon Bays or professional sessions with an Accredited Practitioner is recommended.
Other articles you may be interested in:
Other seminars you may be interested in:
Disclaimer: If you have a medical condition, please visit your doctor and get a good medical diagnosis. The words on this blog do not replace the requirement for advice from a medical professional.
About the author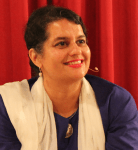 Dr Rangana Rupavi Choudhuri (PhD) is a dynamic international speaker and trainer. She loves being able to share alternate therapy and coaching skills that enable real and rapid transformations. With a PhD in Cancer Research and her background in running a multi-billion dollar international business, she is currently the Founder of Vitality Living College. https://vitalitylivingcollege.info/about-us/our-founder/
Learn more about Vitality Living College: https://vitalitylivingcollege.info/about-us/
For the latest schedule of all our courses, visitCalendar.
Download a free booklet on the Journey with the first chapter by Brandon Bays as well as powerful healing stories of how others have healed.