After searching, I found myself at Breakthrough Coaching NLP!
I love this quote by Dodinski "You have to love yourself because no amount of love from others is sufficient to fill the yearning that your soul requires from you."
You may have had others telling you 'Love Yourself ', but how often have you really practiced self-love? You may think that if you eat your favourite food, drive that luxury car, buy that new lipstick or get that expensive perfume, it's self-love. However self-love is more about what your soul really needs, and how you respond to that need.
Here are some benefits to loving yourself.
An increase in self-esteem.
You begin to live your true life's purpose.
Compassion towards yourself and others.
A reduction in harsh judgments towards yourself and others.
Overall happiness and satisfaction in life increases.
It's about finding your purpose and loving yourself for it. It's about being happy unconditionally and spreading that joy around. This is exactly what Life Coach and Doctor of Ayurveda and Psychology, Dr. Arvinder Kaur discovered during the Breakthrough Coaching with NLP program, "Before attending the seminar, I always felt unloved and unwanted, running away from relationships both personal and professional.I never had any good friends, but all that changed. Dr Rangana was able to get to the root of the issue and peel away the layers and limiting beliefs I had about love. I learned to be myself, love myself first to be able to let the love flow to others, and be an open channel for the Divine. I not only found my purpose clearly and could connect with myself, but with others too in a very loving way."
Dr Arvinder Kaur also recalls a time before the Breakthrough coaching, when she was so low on confidence that she would always prefer to sit at the back of the row for any seminar she attended. "I was so low on confidence, that I could not speak publicly and always preferred to sit at the back row where no one would notice me. The Breakthrough seminar changed all that for me. I now conduct courses and have infact, developed my own signature course on Akashic Records. I also received an international recognition as a Reiki grandmaster."
The Breakthrough Coaching with NLP attended by Dr Arvinder Kaur is a 7 day intensive program where you harness the power of the mind to create the life, health, relationships, career and finances you want. Some applications of the program are:
Creating more fulfilling relationships
Achieving life and business goals
Influencing at work and home
Mobilising teams at work to be successful
Improving health, wellness and confidence
Eliminating fears, phobias and limitations
Leading and empowering yourself and others increasing confidence to move towards the career you desire
Becoming professionally qualified as a coach and making a difference to others and earning a living
Find out more about how Breakthrough Coaching with NLP can help you transform from the inside out as well as become professionally qualified as a Breakthrough Coach as well as NLP, Hypnosis, and Timeline Practitioner.
For best results: Attend the 7-day Breakthrough Coaching with NLP training with a qualified Master Trainer or book a session with a professionally qualified and internationally certified Breakthrough coach and NLP Practitioner.
Other articles you may be interested in:
Other seminars you might be interested in:
About the Trainer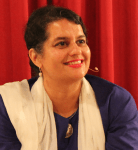 Dr. Rangana Rupavi Choudhuri (Ph.D.) is a dynamic international speaker and trainer. She loves being able to share alternate therapy and coaching skills that enable real and rapid transformations. With a PhD in Cancer Research and her background in running a multi-billion dollar international business, she is currently the Founder of Vitality Living College.
Disclaimer: The information on this website is purely for educational purposes and does not in anyway replace the requirement for medical and psychological diagnosis and treatment. Please do seek professional medical and psychological diagnosis and advice for all medical and mental health conditions. It is advised to always book any consultations with qualified professionals.