EFT Indonesia
Emotional Freedom Techniques (EFT) Bali March 2017
Practitioner Certification (Level 1 & 2) Training Seminar
February 17th-19th 2017 (Fri-Sun)
9.00am – 6.30pm
Svarga Loka Resort, Ubud, Bali, Indonesia
This 3 day EFT Practitioner seminar is for health, happiness & vitality:
For self healing and grow as part of a personal development program
To become professionally qualified as a internationally qualified EFT Certified Practitioner
EFT is clinically proven to lower stress, anxiety, tension, depression, physical tension, fears, limitations and blocks. The initial training is 3 days long and can be as a part of a personal development/self healing program or to become qualified as a Practitioner and earn a living by making a difference to other people's lives.
On the 3 day Intensive course where you will learn how to:
Reduce stress, physical tension/pain as well as cravings
Get to the root cause of negativity, negative emotions and situations
Clear negative events, past hurts, fears and limitations
Shift limiting beliefs to move towards what you want
Work with adults and children on real life issues
Training can be as a part of a personal development/self healing program or to become qualified as a Practitioner and earn a living by making a difference to other people's lives.
About the Facilitator
Dr Rangana Rupavi Choudhuri (PhD) is a heart-centered dynamic International speaker, trainer and author. She loves being able to share alternate therapy and coaching skills that enable real and rapid transformations. She came across EFT in 2005 and used the process to heal herself from chronic pain to feel healthier, happier and more confident. Subsequently she learnt Matrix Reimprinting and has helped others to heal allergies, long standing issues and feel at peace. With a Phd in Cancer Research and background in running multi-billion dollar businesses, Dr Choudhuri is now founder of Vitality Living College and travels the world delivering seminars in the personal development, emotional well-being and mind, body, spirit field. She is a Master Trainer of Trainers and certified EFT Practitioners, Ambassadors, Supervisors and Trainers as well as Matrix Reimprinting Practitioners.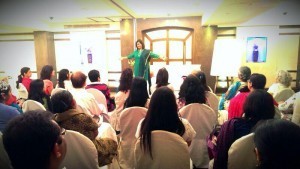 All the training courses are highly interactive with live demonstrations, practice sessions and experiential learning that means each person will leave knowing the technique inside out and able to use with ease and confidence the very next day.
For full details of what will be covered during the 3 days and course curriculum.
"Now that I have learnt EFT and become a Practitioner with Vitality Living College I am getting more clients and earning a living." Jayant Pawar, Wellness coach, India
"Enjoyed every moment of the  workshop." Smita Joshi Holistic Practitioner, Astrology
There are thousands of stories on how attending training with EFT has resulted in healing, personal transformation and change. In the case of Vitality Living College founder, Dr Rangana Rupavi Choudhuri (PhD), she overcame daily migraines and chronic pain in her body after having learnt EFT.
After attending EFT training with Vitality Living College:
Sehjal healed her chronic muscle pain (fibromyalgia)
Dr Rajesh healed his back pain completely and now he helps his patients to do the same
Working mom Daisy helped her son overcome his learning difficulty
Professor Amin's swelling (edema) cleared
Michael & Uma overcame their fear of public speaking
Nihal and Marie Christie became free from claustrophobia
Jayant increased his income through clients
Apoorvaa overcome her Thyroid imbalance
Emma gave up chocolate cravings and lost weight
Avni felt motivated to start a health program and shed 20kg in weight
To learn about these experiences and how attending EFT training with Vitality Living College has helped past delegates overcome their fears, transform and regain their health please visit EFT Reviews.
Becoming certified as an EFT Practitioner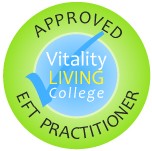 Internationally approved EFT Certified Practitioner is awarded on successful completion of the following within one year of attending training (full details are provided during training):
Three days EFT Practitioner training
Multiple choice exam, an open book exam conducted on your own
Pre-certification 6 hours supervision (included when you participate in the on-line supervision groups. Additional hours can be gained when you review training where supervision hours are included, attended a supervision day or attend next level EFT training)
50 practice hours of one to one sessions on a minimum of 20 clients
Submission of minimum one hour 12 case studies, 4 can be on self and remaining 8 on there and even 4 cases of 2 different people – case study guidelines
Commitment to Continuing professional development and supervision requirements and competition of the CPD and supervision hours log annually, and sign up to Practitioner Code of Conduct and Ethics 
For more information on certification go to EFT Certification.
The full contribution for all 3 days and EFT Practitioner Certification is USD $775 and includes:
3 days training with a certified Vitality Living College EFT Trainer
Over 150 pages of EFT Foundational (Level 1) and Practitioner (Level 2) Manual
All Training slides used in class and links to background reading on EFT as well as related meridian therapies
Attendance certificate from EFT Trainer and Master Trainer of Trainers Dr Rangana Rupavi Choudhuri (PhD)
Additional 6 hours of training which includes supervision and mentoring at no extra charge, worth USD $450
6 hours of pre-certification supervision online with an EFT Trainer at no extra charge, worth USD $400
12 hours post-course mentoring hours by participation on the on-line momentum groups at no charge, worth USD $845
In class practice sessions as well as live demonstrations during the training
For those who want to be certified as EFT Practitioner full review and assessment of case studies, multiple choice exam, practice hours log and videos (if required), worth USD $450
Membership of Vitality Living College Alumni with invitations to on-going re-unions and swap groups, worth USD $178
Invitation to repeat the training as a helping volunteer (Assist Team) at a nominal fee, which includes 6 additional supervision hours, worth USD $445
Invitation to attend an optional supervision day at only USD $67, normal USD $134
Free Membership of Vitality Living College Alumni with invitations to on-going re-unions and swap groups
Invitation to repeat the training as a helping volunteer (Assist Team) at a nominal fee, which includes 6 additional supervision hours
The early bird is USD $675, which is available for a limited time on a first come first served basis.
Special offer: USD $500 for all 3 days, includes all certification. 
EFT Practitioner Training (EFT Level 1&2) three day certification with Dr Rangana Rupavi Choudhuri (PhD)
Dates: February 17-19th, 2017 (Fri – Sun)
Timings: Start 9.00 am – 6.30 pm daily
Venue and address: Svarga Loka Resort Jl. Penestanan Kelod, Ubud 8057, Gianyar, Bali, Indonesia
For directions go to Google maps.
Nearest airport: Ngurah Rai International Airport
Nearest landmark: Alchemy Cafe, Bridges Restaurant, Clear Cafe
Accommodation is not included and we have agreed preferential rates with the venue. You can directly contact the venue and mention Vitality Living on booking.
We have agreed special rates of $USD 115 for single or double occupancy inclusive of all taxes (10% service charge and 11% government tax), daily vegetarian breakfast. For those coming from outside of the local area, staying on site will be most supportive and healing. The venue is amongst nature and yet close to local shops. Check in time is after 2pm and check out time 12 noon. Airport transfer can be booked for $35 (This is very reasonable as the venue is upto 2 hours from the airport is a beautiful town called Ubud). To book please contact the venue directly on
+62 (0) 21361975454
reservations@svargalokaresort.com
http://svargalokaresort.com
To book onto EFT Practitioner Training in Bali submit your registration form to help@vitalitylivingcollege.info.
Payment can be via bank transfer (no charge) or on-line via credit card  or paypal (plus 4% gateway and admin fees).
The on-line booking link is: http://www.eventbee.com/v/vitalityliving/event?eid=112252712#/tickets
For more information call/What's App +919920454749, SMS +919820974625 or e-mail help@vitalitylivingcollege.info.
For our latest schedule of free seminars, certified trainings and transformational workshops go to Book me.
For more information download a free booklet on EFT (Emotional Freedom Techniques) along with 6 other breakthrough books.
To stay connected with us and to know more about upcoming events Like our Vitality Living College official facebook page Click here.