eftmumbai
Emotional Freedom Techniques (EFT) Mumbai November 2016
Practitioner Certification Training Seminar
This 3 day seminar is for
Health Happiness & Vitality
Personal development and healing as part of a self-help program
To become professionally qualified as a Certified EFT Practitioner
Friday 25th November – Sunday 27th November, 9am – 6.30pm
Hotel Residency Andheri
, 213/1, Suren Road, Gundavali, Andheri (E), Mumbai 400 093, India.
EFT Level 1 & 2 three day intensive training for self development or Practitioner certification with Dr Rangana Rupavi Choudhuri (PhD)
EFT is clinically proven to lower stress, anxiety, tension, depression, physical tension, fears, limitations and blocks.
During the 3 days EFT Training (EFT Level 1 & 2) in Mumbai you will learn how to reach to the heart of an issue to create health, vitality and confidence. You will also learn how to:
Eliminate stress, physical tension, pain and cravings
Clear negativity, negative emotions and situations
Transform past events, hurts, fears and limitations
Shift limiting beliefs to move towards what you want
Work with adults and children on real life issues
Training can be as a part of a personal development/self healing program or to become qualified as a Practitioner and earn a living by making a difference to other people's lives.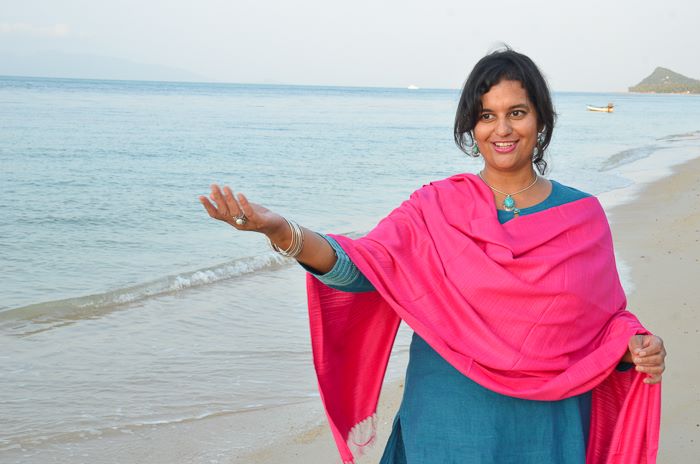 The EFT training seminar will be provided by international author, speaker and trainer, 
Dr Rangana Rupavi Choudhuri (PhD)
. She is founder of Vitality living College and EFT Accredited Master Trainer. Dr Choudhuri has shared EFT with thousands of clients worldwide resulting in healing from depression, physical pain, cravings, over-weight, heart-break, grief, anger, fear and stress to create happiness, health and vitality. She is passionate about health, peak performance and spirituality and is a dynamic and engaging speaker delivering quick and lasting results.
All the training courses are highly interactive with live demonstrations, practice sessions and experiential learning that means each person will leave knowing the technique inside out and able to use with ease and confidence the very next day.
"Rangana is a great facilitator and teacher of this work. Her passion really shines through. She is very open for questions and always has time for you. She made EFT come alive for me. She is very experienced and a real pleasure to work with."  Neela Gohil, Holistic Healer, India
"Now that I have learnt EFT and become a Practitioner with Vitality Living College I am getting more clients and earning a living." Jayant Pawar, Wellness coach, India
"Enjoyed every moment of the  workshop. Rangana is just too amazing. Never met a guru like her." Smita Joshi, Holistic Practitioner & Astrology, India
There are thousands of stories on how attending training with EFT has resulted in healing, personal transformation and change. In the case of Dr Rangana Rupavi Choudhuri, she overcome daily migraines and chronic pain in her body after having learnt EFT. After attending training:
Sehjal healed her chronic muscle pain (fibromyalgia)

Dr Rajesh healed his back pain completely and now he helps his patients to do the same

Working mom Daisy helped her son overcome his learning difficulty

Professor Amin's swelling (edema) cleared

Uma & Michael overcame their fear of public speaking

Mallika overcame her fear and phobia of cockroaches

Nihal & Marie Christie became free from fear of confined spaces (Claustrophobia)

Mahalakshmi helped her mom clear her back pain in 15 minutes

Jayant increased his income through clients

Apoorvaa overcome her Thyroid

Emma gave up chocolate cravings and lost weight

Avni felt motivated to start a health program and shed 20kg in weight

Smita felt emotionally transformed and finally healed and happy
To learn about these experiences and how attending EFT training with Vitality Living College has helped past delegates overcome their fears, transform and regain their health please visit EFT Reviews.
Learn what thought leaders like Deepak Chopra, Bruce Lipton & Wayne Dyer feel about EFT and the reason it is regarded as such a powerful technique.
More information on what is covered during the 3 days can be found below:
Day 1 – Foundations of EFT for stress relief and relaxation
EFT Level 1 Training, based on the syllabus for Global Certification. We will teach how to use EFT can be used lower stress, release negative memories, shift emotions, eliminate physical pain/tension and reduce cravings.
The EFT Level 1 course curriculum includes:
How to use EFT as a self-help tool and with friends and family
Origins and background of EFT
The full EFT tapping sequence as developed by founder Gary Craig
Shorter tapping sequence
How healing our emotions is connected to increasing health
EFT for stress relief and anxiety
How to eliminate physical pain
EFT for negative events and memories (Tell the story)
Tapping away dis-empowering emotions
Harmonising negative emotions and how to shift energy within the body
EFT for cravings, for example food cravings, work addictions (!), unhealthy habits
EFT as part of a daily routine (Personal peace procedure)
A 60 page manual with background information
Certificate to use EFT as a self-help tool and with friends and family
Day 2 & 3 – Advanced EFT for health, happiness and vitality
EFT Level 2 Training for personal development or to become a Practitioner as per syllabus for Global Certification. Ideal for those who have completed EFT Level 1 and would like to become a Practitioner or use EFT as part of a self-development program.
Level 2 course curriculum includes:
Building rapport, trust and a safe environment
How to use EFT with yourself and clients
Working more effectively and efficiently with past events (Movie Technique)
Using EFT safely for trauma and phobias (Tearless Trauma)
Working more privately with deep rooted issues including shame and guilt (Keyword approach)
How to resolve and issue without addressing the real issue (Sneaking up)
Coming to peace with negative emotions, for example fear, anger, sadness, hurt and guilt
Getting to the heart of the problem or issue with questions
Clearing limiting beliefs to move towards what is desired in life (Palace of possibilities)
Borrowing benefits by group tapping
Identifying different aspects of an issue
Testing the effectiveness of EFT
Additional tapping points
EFT and telephone sessions
Using EFT with children
Surrogate tapping and using EFT with animals
A 80 page manual with certificate of attendance
Your investment for the 3 day Intensive EFT Level 1 & 2 Training is Rs 22,500 and includes:
3 days training with Trainer of Trainer Dr Rangana Rupavi Choudhuri
Over 150 pages of EFT Level 1 & 2 Manual including Training Slides as well as Reference Manual
In class practice sessions as well as live demonstrations during the training
All lunches and refreshments
Course attendance certificate
Free Membership of Vitality Living College Alumni with invitations to on-going re-unions and swap groups
On-line access to tapping sequences, audio programs and videos
Complimentary Membership of facebook EFT support group with the ability to get facebook mentoring
For those who want to become a Practitioner full review of case studies
On successful completion of the 3 days, multiple choice test as well as case studies and commitment to an on-going program of continuing professional development Globally Approved Practitioner certificate is awarded. For more information on certification go to EFT Certification.
Special package offer: The 3 day intensive package is for only Rs 22,500. We have an early bird discount of Rs 19,500. 

Program: EFT Level 1 & 2 Three Days Intensive Training Mumbai with Dr Rangana Rupavi Choudhuri (Phd).
Dates: November 25th – 27th 2016
Timings: 9.00 am – 6.30 pm daily
Venue and Address: Hotel Residency Andheri
, 213/1, Suren Road, Gundavali, Andheri (E), Mumbai 400 093, India.
For direction go to Google maps.
Nearest airport: Chhatrapati Shivaji International Airport, Mumbai
Nearest main-line train station: Andheri Station
Nearest metro station: Andheri Metro Station
Nearest bus station: Chakala Bus station
Nearest Landmark: Near Cinemax Cinema
To book onto EFT Mumbai Level 1 & 2 email india@vitalitylivingcollege.info, call +919920454749 or SMS +919820974625 or book on-line below:
| | | | | | | |
| --- | --- | --- | --- | --- | --- | --- |
| Program | Dates | Day & Timings | City | Early bird | Full price | Register me |
|  EFT Level 1 & 2 |  23-25 Sep 2016 |  Fri-Sun 9am-6.30pm |  Mumbai |  Rs. 19,500 |  Rs 22,500 |  Register* |
| EFT Level 1 & 2 | 07-09 Oct 2016 | Fri-Sun 9am-6.30pm | Delhi | Rs. 19,500 | Rs. 22,500 | Register* |
| EFT Level 1 & 2 | 25-27 Nov 2016 | Fri-Sun 9am-6.30pm | Delhi | Rs. 19,500 | Rs. 22,500 | Register* |
*Some on-line bookings can incur an additional 2%
For our latest schedule of free seminars, certified trainings and transformational workshops go to Book me.
For more information download a free booklet on EFT (Emotional Freedom Techniques) along with 6 other breakthrough books.
To stay connected with us and to know more about upcoming events Like our Vitality Living College official facebook page Click here.