The Journey showed me what could have really caused my cancer, and how I can heal!
The Journey showed me what could have really caused my cancer, and how I can heal!
"If you desire healing, let yourself fall ill, let yourself fall ill."  -Jalaluddin Rumi
Healing, in some form or another, is something almost everyone wants. We all want to move towards perfect health, work at our dream jobs, and be completely free of all the things in our past that weigh us down. And yet, Rumi says to let ourselves fall ill! How can this apparent contradiction make sense?
Every day, scientists are discovering more and more ways in which our mind and body are closely interlinked. Our thoughts and emotions can often be read on our bodies. Stress, the ubiquitous cry of our digital age, is often called the cause for everything – weight issues, heart issues, allergies, family troubles, work troubles… the list goes on. While we're often very responsive to physical issues, emotional or mental issues can be overlooked until they reach a tipping point, and manifest physically. Maybe this, then, is what Rumi means. That in every illness, there is an opportunity to heal wounds we are not aware that we are carrying.
Ashi Chandra had a very real and immediate understanding of this concept when she faced a health crisis. Having been fighting colon cancer for four years, Ashi Chandra's hopes of recovery were at their lowest, and her spirit, at its dimmest. It was then that she discovered the Journey. "I completely buy Brandon's proposition that diseases are the net result of piling up negative emotions within us since childhood, that's when the process of shutting down begins."
Journey work has helped Ashi to clear the layers of built-up hurt and rejection, and to let go of all the excess emotional baggage that hampered her from moving ahead. Today, a deeper understanding of what could have caused her disease, and the knowledge that real healing lies in her own hands, has given Ashi a new confidence that she can – and will! – win the battle against her condition. – Excerpt from article published in Mind & Body, Heart and Soul, June 2012.
Since The Journey Seminars has been made available in 36 countries around the world it has helped thousands of people worldwide free themselves, for example:
Fear, worry, stress and anxiety vanishes
Depression clears
Low self-esteem and lack of confidence transforms
Chronic anger and rage comes to peace
Physical illnesses and diseases heal
Addictions and unhealthy behaviours shift
Past traumas and hurts resolve
Verbal, physical and sexual abuse heal
Relationship problems clear
Career performance increases
Spiritual realisations and developments accelerate
During the initial 3 day Journey seminar attended by Annette Cliffe, you will learn how to:
Overcome emotional and physical issues
Awaken the inner healing potential
Open into unconditional love, peace and oneness
Find out more about The Journey Seminar and how it might help you heal from within and how you might be able to share this powerful technique used by millions work-wide to help others. 
For best results: Attending the Journey seminar with a presenter appointed by Brandon Bays or professional sessions with an Accredited Practitioner is recommended.
Other articles you may be interested in:
Other seminars you may be interested in:
Disclaimer: If you have a medical condition, please visit your doctor and get a good medical diagnosis. The words on this blog do not replace the requirement for advice from a medical professional.
References:
http://www.cam.ac.uk/research/news/women-and-people-under-the-age-of-35-at-greatest-risk-of-anxiety
About the author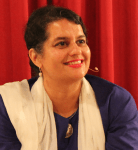 Dr Rangana Rupavi Choudhuri (PhD) is a dynamic international speaker and trainer. She loves being able to share alternate therapy and coaching skills that enable real and rapid transformations. With a PhD in Cancer Research and her background in running a multi-billion dollar international business, she is currently the Founder of Vitality Living College. https://vitalitylivingcollege.info/about-us/our-founder/
Learn more about Vitality Living College: https://vitalitylivingcollege.info/about-us/
For the latest schedule of all our courses, visitCalendar.
Download a free booklet on the Journey with the first chapter by Brandon Bays as well as powerful healing stories of how others have healed.