Free Journey Mumbai
Free Seminar. Booking Essential. Seats Limited.
Introduction to The Journey with Dr Rangana Rupavi Choudhuri (PhD)
Discovering your own healing potential, truth and freedom with cellular healing method The Journey
Mumbai, Sunday June 14th 2015, 2.30pm-6.30pm

Mitibhai College, Bhaktivedanta Swami Marg, Vile Parle West, Mumbai, Maharashtra 400056, India
Whether you are someone who has an illness and wanting to learn about a step by step healing process used by millions world-wide or are a spiritual seeker wanting a deeper connection with self or you love to experience healing, peace, balance and joy then you will love this free seminar with Dr Rangana Rupavi Choudhuri (PhD).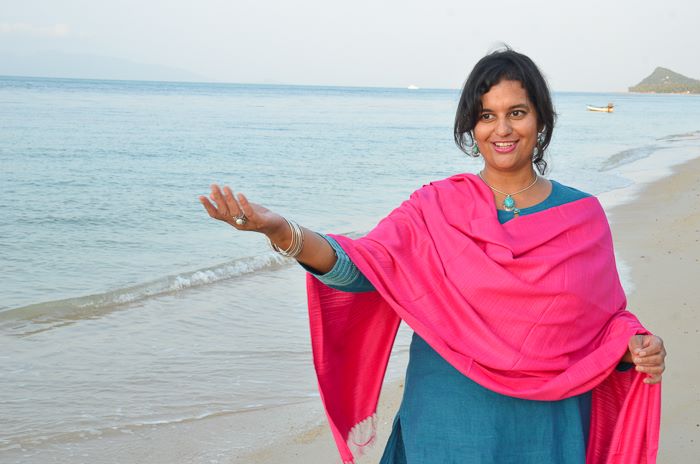 It is a very unique opportunity to experience profoundly moving healing meditations and visualisations with live demonstrations and therapeutic stories.
The best way to experience the Journey is to attend the a free introductory seminar where you will get to experience Journey-style meditations, the basics of emotional healing and what is the cell memory and how to find it.
There are limited places and booking is essential. Seats will go on first come first saved basis. To register use the links below:
| | | | | | |
| --- | --- | --- | --- | --- | --- |
| Program | Dates 2015 | Day & Timings | Venue | Location | Register |
| Bangalore | 13 June | Sat 10-1.30pm | Organic State | Mantri Square | Register |
| Mumbai | 14 June | Sun 2.30-6.30pm | Mitibhai College | Ville Parle West | Register |
| Delhi | 8 July | Wed 6-8.30pm | Lotus Sutra | Defence Colony | Register |
This free awakening journey to healing seminar will be excellent for those who want to:
• Learn the latest alternate therapy method of cellular healing and transformation
• Grow personally and develop spiritually
• Know more about a technique that can help others and make a difference to their lives
• Explore how the Journey can help heal emotional, physical and health issues
• Learn how to heal from past traumas and hurts and create a fulfilling career and relationship life
• Discover how the Journey can help adults, children and teenagers realise their potential
The Journey is a method of cellular healing developed by international bestselling author Brandon Bays. She pioneered the revolutionary healing method to heal herself from a football sized tumour.
Since the Journey has been made available in 36 countries around the world it has helped thousands of people worldwide free themselves, for example:
• 
Fear, worry, stress and anxiety vanishes
• Depression clears
• Low self-esteem and lack of confidence transforms
• Chronic anger and rage comes to peace
• Physical illnesses and diseases heal
• Addictions and unhealthy behaviours shift
• Past traumas and hurts resolve
• Verbal, physical and sexual abuse heal
• Relationship problems clear
• Career performance increases
• Spiritual realisations
Dr Choudhuri was diagnosed with 2 serious health conditions in 2002 and living proof of healing with the Journey. She used the Journey process, developed by Brandon Bays, to heal herself completely without drugs or surgery. Below is Dr Choudhuri's article published in speaking tree, October 13th 2013.
There are thousands of similar stories of transformation with The Journey, for example healing from anxiety, depression, illness, chronic pain, grief, loss, anger, fear, hurt, rejection, sexual abuse, past traumas as well as manifesting dream relationships, career, finances and spiritual realisations. A sample of personal healing stories, case studies and testimonials are on this link.
Learn what key opinion leaders like Deepak Chopra, Anthony Robbins and the Sunday times had to say about the Journey.
Children and teenagers who receive the Journey process increase their marks by 50% to 91% and are happier, healthier coming out of fears, anger, low self esteem and learning difficulties. The process is used in schools and universities to enable children and our youth to realise their highest potential.
Personal experiences on the Journey with Dr Rangana Rupavi Choudhuri (PhD)
"Dr Rangana Rupavi Choudhuri is the perfect presenter for The Journey – a genuine embodiment of the work, having used the method to heal from abnormal cells without drugs or surgery. She teaches with such love and humour and her wisdom and depth are an inspiration to all who sit with her. Radiant and compassionate she creates an environment of acceptance and safety where all participants can easily open into their own process work in an effortless way. And her expertise and experience in journey work creates a cradle for our minds to relax and allows us to " Dive in" deeply."  Brandon Bays, Founder & Creator of The Journey
"Awesome, Inner stillness, lots of gratitude, inner cleansing, peace. Meeting Rangana itself is overwhelming. Thank you so much. God bless. Thanks to the team." Bindiya Shah, Teacher
"It has helped me clear a lot of physical and emotional clutter, heal, help, and forgive in the true sense." Amishi Kothari, Part time teacher
There are limited places and booking is essential. Seats will go on first come first saved basis. To register above or go to

 book me.
For more information download a free booklet Journey to Healing with the first chapter of The Journey book by Brandon Bays, completely free along with 6 other breakthrough books.
To get the latest schedule of free seminars, training courses and workshops please go to Book me.
To stay connected with us and to know more about upcoming events Like our Vitality Living College official facebook page Click here.