EFT North London
EFT Practitioner (Level 1 and 2) Training North London July 2016
Practitioner Certification Training Seminar
This 3 day seminar is for
Creating health, happiness and vitality
Personal development and healing as part of a self-help program
To become professionally qualified as a Certified EFT Practitioner
Friday 1st July – Sunday 3rd July 2016, 9.45am-6.45pm

Century house, Wembley Park, Middlesex, HA9 8RS, UK
EFT Level 1 & 2 three day intensive training for self development or Practitioner certification with Dr Rangana Rupavi Choudhuri (PhD) and an introduction to Matrix Reimprinting 
EFT is clinically proven to lower stress, anxiety, tension, depression, physical tension, fears, limitations and blocks.
During the 3 days EFT Training (EFT Level 1 & 2) in North London you will learn how to reach to the heart of an issue to create health, vitality and confidence.
You will also learn how to:
Eliminate stress, physical tension, pain and cravings
Clear negativity, negative emotions and situations
Transform past events, hurts, fears and limitations
Shift limiting beliefs to move towards what you want
Work with adults and children on real life issues
Training can be as a part of a personal development/self healing program or to become qualified as a Practitioner and earn a living by making a difference to other people's lives.
More information on what is covered during the 3 days can be found below:
Day 1 – Foundations of EFT for stress relief and relaxation
EFT Level 1 Training, based on the AAMET syllabus. We will teach how to use EFT can be used lower stress, release negative memories, shift emotions, eliminate physical pain/tension and reduce cravings.
The EFT Level 1 course curriculum includes:
How to use EFT as a self-help tool and with friends and family
Origins and background of EFT
The full EFT tapping sequence as developed by founder Gary Craig
Shorter tapping sequence
How healing our emotions is connected to increasing health
EFT for stress relief and anxiety
How to eliminate physical pain
EFT for negative events and memories (Tell the story)
Tapping away dis-empowering emotions
Harmonising negative emotions and how to shift energy within the body
EFT for cravings, for example food cravings, work addictions (!), unhealthy habits
EFT as part of a daily routine (Personal peace procedure)
A 60 page manual with background information
Certificate to use EFT as a self-help tool and with friends and family
Day 2 & 3 – Advanced EFT for health, happiness and vitality
EFT Level 2 Training for personal development or to become a Practitioner as per AAMET syllabus. Ideal for those who have completed EFT Level 1 and would like to become a Practitioner or use EFT as part of a self-development program.
Level 2 course curriculum includes:
Building rapport, trust and a safe environment
How to use EFT with yourself and clients
Working more effectively and efficiently with past events (Movie Technique)
Using EFT safely for trauma and phobias (Tearless Trauma)
Working more privately with deep rooted issues including shame and guilt (Keyword approach)
How to resolve and issue without addressing the real issue (Sneaking up)
Coming to peace with negative emotions, for example fear, anger, sadness, hurt and guilt
Getting to the heart of the problem or issue with questions
Clearing limiting beliefs to move towards what is desired in life (Palace of possibilities)
Borrowing benefits by group tapping
Identifying different aspects of an issue
Testing the effectiveness of EFT
Additional tapping points
EFT and telephone sessions
Using EFT with children
Surrogate tapping and using EFT with animals
A 80 page manual with certificate of attendance
Becoming certified as an EFT Practitioner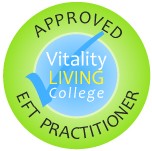 Internationally approved EFT Certified Practitioner is awarded on successful completion of the following within one year of attending training (full details are provided during training):
Three days EFT Practitioner training
Multiple choice exam, an open book exam conducted on your own
Pre-certification 6 hours supervision (included when you participate in the on-line supervision groups, review training where additional supervision hours are included, attended a supervision day or attend next level EFT training)
50 practice hours of one to one sessions
Submission of min one hour 12 case studies
Commitment to continuing professional development and sign up to code of conduct.
Following the award of EFT Practitioner certification from an AAMET (Association of the Advancement of Meridian Therapies) Certified Master Trainer of Trainers & Vitality Living College, students are eligible to register with AAMET as an Accredited Certified EFT Practitioner level. The EFT Practitioner exam will need to be completed on-line as well as commitment and sign-up to the AAMET Code of Ethics, on-going supervision and mentoring and CPD to maintain registration.
For more information on certification go to EFT Certification.
"I feel more confident, I have learnt more and I trust that EFT is something that works." Margaret Bradley, Virtual Assistant, UK
"Cleared all my emotional blockages" Iva West, Utility Warehouse, UK
"A renewed enthusiasm with EFT and renewed confidence in its efficiency." Franki Gifts, Complementary therapist, UK
Watch, read and experience what other people has to say about EFT training with Vitality Living College. Learn what thought leaders like Deepak Chopra, Bruce Lipton & Wayne Dyer feel about EFT and the reason it is regarded as such a powerful technique.
The training will provided by Trainer of Trainers, Dr Rangana Rupavi Choudhuri (PhD). She is an international speaker as well owner and founder of Vitality Living College conducting trainings around the world in EFT, NLP, Hypnosis, Journey work and Timeline Technology & Breakthrough coaching.
All the training courses are highly interactive with live, practice sessions and experiential learning that means each person will leave knowing the technique inside out being able to use with ease and confidence the very next day.
Your contribution for EFT Practitioner certification is £495 and includes:
3 days training with EFT Master Trainer Dr Rangana Rupavi Choudhuri (PhD)
Over 150 pages of EFT Level 1 & 2 Manual including Training Slides as well as Reference Manual
6 hours of pre-certification supervision with a Master Trainer for EFT Practitioner at no extra charge, worth £570
6 hours post-course mentoring hours by participation on the on-line momentum groups at no charge, worth £1,140
In class practice sessions as well as live demonstrations during the training
Course attendance certificate from Vitality Living College and AAMET approved Master Trainer Dr Rangana Rupavi Choudhuri (PhD)
Post course invitation to momentum groups which vary between swap meets, mentoring groups and supervision sessions with approved supervisors and trainers
For those who want to be certified as EFT Practitioner full review and assessment of case studies, multiple choice exam, practice hours log and videos at no extra charge, worth £200
Invitation to attend an optional supervision day at only £95, normal £195
Free Membership of Vitality Living College Alumni with invitations to on-going re-unions and swap groups
Invitation to repeat the training as a helping volunteer (Assist Team) at a nominal fee, which includes 6 additional supervision hours
Special package offer for all 3 days:
The early bird has now finished on a first come first basis you are able to secure all 3 days with certification for only £395. This offer is on a first come first served basis.
EFT Level 1 (the first day) can be attended for only £165.
EFT Level 2 (the second 2 days for those who have completed EFT Level 1 before) can be attended for only
£365.
Those who have completed training with another certified trainer may attend all 3 days at 50% off the full price, which is £247.50
Previous students may join for only £10 per day as members of the volunteer team and can count toward supervision and mentoring hours. Additional charges for lunch and refreshments may apply.
For those wanting independent AAMET accreditation for EFT Practitioner there is additional charge of £15 each to complete the test on-line (payable directly to AAMET).
To book straight-away, click on the link – http://VitalityLiving.eventbee.com/event?eid=120140373
Please read the full terms and conditions applicable for the 3 day seminar as well as early bird discount.
EFT Practitioner Certification Training Summary

Program: EFT Level 1 & 2 Three Days Intensive Training with Dr Rangana Rupavi Choudhuri (Phd).
Dates: Friday July 1st – Sunday July 3rd
Timings: Start 9.45 am daily
Venue and address: Century house, Wembley Park, HA9 8RS, UK
Location: Please go to Google maps for the exact location.
The closest landmarks, airports and stations are:
Nearest airport: Heathrow Airport (25 miles) & Luton (15 miles)
Nearest main-line train station: Wembley Stadium, Wembley Central
Nearest metro/underground station: Wembley Park (Metropolitan line)
Accommodation is not included for the 3 days.
To book onto EFT 1&2 Wembley Park please fill in the registration form and e-mail help@vitalitylivingcollege.info or call or What's App, SMS +447780029133 or Skype: Vitality Living College/vlcindia or book on-line. 
For our latest schedule of free seminars, certified trainings and transformational workshops around the world go to Book me.