Journey Malaysia
Journey Intensive Healing Seminar Malaysia with Dr Rangana Rupavi Choudhuri (PhD)
3 Day Seminar in Selangor with Journey Intensive and Advanced Skills
Paranormal Studios B-7-20, Ativo Plaza, Jln PJU 9/1, Damansara Avenue, Bandar Sri Damansara, 52200 Selangor, Malaysia
Friday October 16th – Sunday October 18th 2015
The Journey is a method of cellular healing developed by international bestselling author Brandon Bays. She pioneered the revolutionary healing method to heal herself from a football sized tumour.
Are you ready for The Journey? Ask yourself if:
Fear, anxiety or stress is prevalent in your life.
You're feeling stuck or that there's just got to be more to life.
You're facing ill health or ongoing physical issues.
Unhealthy behaviours keep repeating, leaving you depressed, flat or even hating life.
You're wanting more fulfillment in your relationship.
You're still searching for your own authentic greatness, your infinite potential, your deepest truth.
Then join us and experience this dynamic, new paradigm for bringing lasting change to your life.
Since the Journey has been made available in 36 countries around the world it has helped thousands of people worldwide free themselves, for example:
Fear, worry, stress and anxiety vanishes
Depression clears
Low self-esteem and lack of confidence transforms
Chronic anger and rage comes to peace
Physical illnesses and diseases heal
Addictions and unhealthy behaviours shift
Past traumas and hurts resolve
Verbal, physical and sexual abuse heal
Relationship problems clear
Career performance increases
Spiritual realisations and developments accelerate
Using The Journey methods ordinary people achieve extraordinary results, no matter their age, background, culture or upbringing. The Journey is hailed as a universal teaching, the only one of its kind. It's practical, user- friendly and down-to- earth – and it gets the deepest of results!
The Journey Intensive Healing Seminar provides you with simple but radical and powerful tools that you can take with you to use in all areas of your life and will be facilitated by much sought after International author, speaker and trainer Dr Rangana Rupavi Choudhuri (PhD).
Personal experiences on the Journey with Dr Rangana Rupavi Choudhuri (PhD)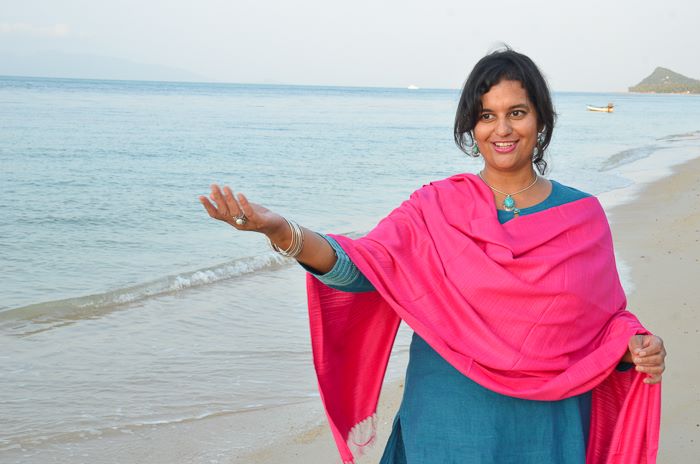 "Dr Rangana Rupavi Choudhuri is the perfect presenter for The Journey – a genuine embodiment of the work, having used the method to heal from abnormal cells without drugs or surgery. She teaches with such love and humour and her wisdom and depth are an inspiration to all who sit with her. Radiant and compassionate she creates an environment of acceptance and safety where all participants can easily open into their own process work in an effortless way. And her expertise and experience in journey work creates a cradle for our minds to relax and allows us to " Dive in" deeply."  Brandon Bays, Founder & Creator of The Journey
"Awesome, Inner stillness, lots of gratitude, inner cleansing, peace. Meeting Rangana itself is overwhelming. Thank you so much. God bless. Thanks to the team." Bindiya Shah, Teacher
"It has helped me clear a lot of physical and emotional clutter, heal, help, and forgive in the true sense." Amishi Kothari, Part time teacher
"Came closed as a skeptic left open and converted. Hope to be a part of this journey for a long time. Thank you so much"  Lale Sarb, Homemaker
"The Journey seminar was truely well organised, Rangana was a great facilitator and instructor. Her instructions truely facilitated us to realise what a wonderful tool the journey is for healing." Shireen Vakil, Business Owner
"Rangana is a phenomenal trainer, Thank you journey for coming to India, Asia and Middle East" Jayant Pawar, Health coach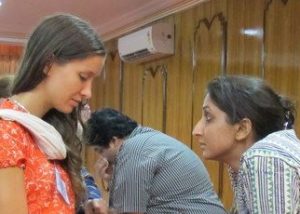 Personal experiences of transformation and healing with The Journey in India
There are thousands of reviews and personal healing stories from people all around the world using the Journey to heal their life. A sample of personal healing stories, case studies and testimonials are on this link and a brief summary below:
I feel happy within and no longer need to take daily anxiety medication
"For me, attending the Journey program was nothing short of a miracle. I was going through..depression, anxiety, stress, abuse, trauma, lack of confidence, inferiority complex, a suicidal tendency…I had them all. After attending the Journey program…I no longer take daily medication for my anxiety attacks, I feel a sense of completeness, I am happy from within." Navolina Patnaik, Bangalore, India
My body naturally shed off the excess 20 kilos of fat that no longer served a purpose
"The Journey helped me hit the core issue behind my holding onto the excess weight and fat in my body. In the past eight months, my body has shed off 20 kilos of excess weight and is continuing to transform beautifully on its own" Saumya Sharma, New Delhi, India
I have discovered my purpose and am now enjoying an enhanced quality of life!
"My experience with 'The Journey' has allowed me to really be at peace with my own self. I have managed to form relationships and feel love from a deep place within myself, in a space that is pure and true to me. I have made friends that are truly beautiful and supportive, and they have shown me that this world is full of great positivity. I thank 'Journey' for that, it has opened a spiritual gateway for me that has enhanced the quality of my life." Sanjay Pal Singh, Singapore
For the full stories please visit Transformations with The Journey.
Learn what key opinion leaders like Deepak Chopra, Anthony Robbins and the Sunday times had to say about the Journey. For example:
Entrepreneur and Best-Selling Author Anthony Robbins on The Journey
"Brandon Bays is a remarkable soul, and her story of healing and reconciliation is a testament to the capabilities of human beings. Read this book and be inspired to take your own journey of healing!" Anthony Robbins, Entrepreneur, Author & Peak Performance Strategist
John Gray, Author of Men Are from Mars, Women Are from Venus on The Journey Method
"Brandon's inspiring story is proof of the healing power that exists within every individual."
John Gray, Author of Men Are from Mars, Women Are from Venus
The Journey Intensive Healing Seminar with Advanced Skills
At this 3-day seminar you will learn the latest Journey techniques. Through guided meditations, introspections, and additional mini-process work you will get a direct experience of the powerfully liberating effects of the Journey Work.
Day 1: 
You will learn and undergo the Emotional Journey Process. You will experience a Journey directly into your soul, clear out long-standing unhealthy emotional issues, and find true clarity and answers to your deepest questions by accessing your own inner wisdom.
Day 2: You will deepen your experience through additional mini-process work and introspections, and learn and undergo the Physical Journey Process, discovering old cell memories, resolving and clearing them completely and thus activating your body's healing power.
Day 3: You will learn the unique and powerful Advanced skills that Brandon personally developed in her private practice and has made the Journey. It is an inspiring day, jam-packed with countless powerful tools, process work and the very latest skills. This is a highly-experiential day where you'll be immersed in the depth of the skills that make Journey work the most potent, life-changing program available in the world today.


Program: Journey Intensive with Advanced Skills Three-Day Seminar with Dr Rangana Rupavi Choudhuri (PhD)
Dates: Friday Oct 16th – Sunday Oct 18th 2015
Timings: 8:45 am -8:00 pm daily
Venue and Address: Paranormal Studios, B-7-20, Ativo Plaza, Jln PJU 9/1, Damansara Avenue, Bandar Sri Damansara, 52200 Selangor, Malaysia
For directions go to Google maps.
Nearest airport: Sultan Abdul Aziz Shah Airport 

Nearest Rail lingk: Rail Link (M) Sdn. Bhd.
Nearest bus station: Bus Stop Jalan Kuala Selango

Nearest Landmark: Ativo Plaza by TA Globa
Accommodation is not included and you are welcome to book directly with the hotel available near the venue:
1) Hotel S Damansara 
hotelsd.biz
 venue is 3 mins by cab
The investment for the Journey includes and is RM 1500:
3 days teaching with Senior Journey presenter Dr Rangana Rupavi Choudhuri
Meditations, process work and visualisations
Giving and receiving the emotional journey, physical journey and advanced skills
Emotional Journey, Physical Journey and Advanced skill process sheets
Free membership of the facebook and What's App Journey support groups
Invitations to attend Journey grad groups in the major cities after the seminar. This is where graduates of the 3 day seminar can come to together and give and receive a process completely free of charge.
The early bird for the 3 day Journey seminar is only RM 1300.
A special discount of RM 1100 is available for a few, limited places.
Group booking discount is also available for 5 or more booking together.
To book onto The Journey Seminar please email help@vitalitylivingcollege.info, call +919920454749 or SMS/What's App +919892751513 or Skype Vitality Living College/vlcindia or book on-line below:
Journey Intensive
17-19 Sept
Thur-Sat
8.45am-8pm
Dubai
AED 3000
AED 3500
Register*
Journey Intensive
2-4
Oct
Fri-Sun
8.45am-8pm
Pune, India
Rs 19500
Rs 22500
Register*
Journey Intensive
16-18 Oct
Fri-Sun
8.45am-8pm
Malaysia
RM 1300
RM 1500
Register*
Journey Intensive
23-25 Oct
Fri-Sun
8.45am-8pm
Raipur, India
Rs 19500
Rs 22500
Register*
* Plus 2% on some on-line bookings
This year we will also be bringing Brandon Bays and Kevin Billet to India to facilitate the No Ego Retreat (December 10-18th 2015) as well as hosting a full Practitioner Program in India with Healing with Conscious Communication (January 28th – 31st 2016) with Dr Rangana Rupavi Choudhuri and Life Transformation Week (February 27th – March 5th 2016) with Debra Billet.
For more information download a free booklet Journey to Healing with the first chapter of The Journey book by Brandon Bays, completely free along with 6 other breakthrough books.
To get the latest schedule of free seminars, training courses and workshops please go to Book me.
To stay connected with us and to know more about upcoming events Like our Vitality Living College official facebook page Click here.