I never realized my worth until I attended EFT!
I never realized my worth until I attended EFT!
"It's not who you are holds you back, it's who you think you are not."
The way you think of yourself eventually becomes the reality for you. Lack of self-worth can lead people to fall short of their potential. Poor self-worth is what traps us in unwanted situations and sabotages relationships. Knowing your worth doesn't guarantee a happy, peaceful and successful life. But it definitely equips you with the skills to identify what you want and deserve as well as the confidence to walk out of a situation.
Diving deep into yourself and finding what you are capable of seems like a task to most of us. But for Smita Pande, it was a piece of cake after the EFT training. Smita with great enthusiasm explains how she feels about the training – "I have had a good life, however, I never knew what genuine happiness actually is. The only thing I wanted to do in life was to recognise my potential. When the EFT training session ended, I sensed a complete emotional transformation, finally experiencing the true happiness. Right after the workshop, I chose a different road for my life. This 'new journey' was the one taken to discover myself. My first step was to do something of my own, so I decided to become a counsellor.
Smita's life changed upside down after the EFT training. It transformed to an extent that she chose to become an EFT practitioner herself. She believes in spreading peace and happiness in everyone's life around her. "I felt confident and empowered as these baby steps progressively matured and expanded. I feel blessed that I followed EFT as a tool that appease all the life challenges I faced. Physically and emotionally, I feel gratitude for everything I have which has helped me achieve peace and happiness from deep within. I get tremendous joy in helping my family, friends and clients by releasing their negative emotions and making them feel empowered and happy," Smita adds. 
During the 3 days EFT Practitioner Training, as attended by Smita Pande, you will also learn how to:
Shift limiting beliefs to move towards what you want
Work with adults and children on real life issues
Become qualified as a Practitioner
To find out more about Emotional Freedom Techniques (EFT Level 1 & 2) Practitioner Training and how the training can help as part of a self healing program or to become become professionally qualified and make a difference to the lives of others and earn a living. 
For best results: Attending the 3 day Emotional Freedom Techniques training with a qualified Master Trainer or to booking a session with a professionally qualified and internationally certified practitioner is recommended. Please e-mail us if you require either, help@vitalitylivingcollege.info.
Other articles you may be interested in:
Other seminars you might be interested in:
Disclaimer: If you have a medical condition, please visit your doctor and get a good medical diagnosis. The words on this blog do not replace the requirement for advice from a medical professional.
About the Author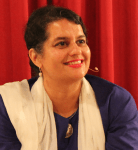 Dr Rangana Rupavi Choudhuri (PhD) is a dynamic international speaker and trainer. She loves being able to share alternate therapy and coaching skills that enable real and rapid transformations. With a PhD in Cancer Research and her background in running a multi-billion dollar international business, she is currently the Founder of Vitality Living College.https://vitalitylivingcollege.info/about-us/our-founder/
Learn more about Vitality Living College:https://vitalitylivingcollege.info/about-us/
For the latest schedule of all our courses, visit Calendar.
Download a free booklet on how EFT can help achieve happiness and emotional freedom.