I conquered my chocolate cravings on Day 1 of EFT Training
Ever wondered why you get that insatiable urge to have a Belgian dark chocolate cake in the middle of nowhere on a regular day? One moment, you're simply sitting and working in your office after lunch, the next, you find yourself ensnarled with desires. Before you even realize you're standing next to the refrigerator, binging on chocolates and other sugary treats. These kinds of food cravings can be both physiological and psychological.
Business owner Emma Voss managed to grab her cravings by the scruff of the neck. She talks about her victory over her chocolate cravings after attending the 3 day EFT  training in the UK in 2011, "I learned a lot at the EFT training program and I feel very positive. On the first day of the training itself I felt in control over my chocolate cravings. My first ever day without chocolates was effortless. I did all my work without getting clobbered by my urges. I never thought I could ever achieve that in a single day". Emma returned for EFT Training in 2012 and this time she won over her biscuit cravings. She came back for the training in 2013 when she reported her body was in better shape.
The EFT training 'eliminate cravings protocol' can easily be learned on Day 1 of Training Program. You will be able to free yourself from any negativity, fears, inhibitions and trauma from the past events.
During the 3 days EFT Practitioner Training, as attended by Emma Voss, you will also learn how to:
Shift limiting beliefs to move towards what you want
Work with adults and children on real-life issues
Become qualified as a Practitioner
To find out more about Emotional Freedom Techniques Practitioner Training and how the training can help as part of a self-healing program or to become professionally qualified and make a difference to the lives of others and earn a living. 
For best results: Attending the 3 day Emotional Freedom Techniques training with a qualified Master Trainer or to booking a session with a professionally qualified and internationally certified practitioner is recommended.
Other articles you may be interested in:
Other seminars you might be interested in:
About the Trainer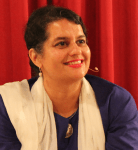 Dr. Rangana Rupavi Choudhuri (Ph.D.) is a dynamic international speaker and trainer. She loves being able to share alternate therapy and coaching skills that enable real and rapid transformations. With a Ph.D. in Cancer Research and her background in running a multi-billion dollar international business, she is currently the Founder of Vitality Living College.https://vitalitylivingcollege.info/about-us/our-founder/
Disclaimer: The information on this website is purely for educational purposes and does not in anyway replace the requirement for medical and psychological diagnosis and treatment. Please do seek professional medical and psychological diagnosis and advice for all medical and mental health conditions. It is advised to always book any consultations with qualified professionals.
Download a free booklet on how EFT can help achieve happiness and emotional freedom.
Learn more about Vitality Living College:https://vitalitylivingcollege.info/about-us/
For the latest schedule of all our courses, visit Calendar.