Free Empowered Health Happiness Seminar
Free Seminar. Limited Seating. Booking Essential.
Empowered Health and Happiness Free Seminar with
Dr Rangana Rupavi Choudhuri (PhD).
| | | |
| --- | --- | --- |
| City | Dates 2016 Timings | Register me* |
| Mumbai, Santacruz West | 14 Aug Sun, 4pm-7.30pm  | |
| Delhi, Defence Colony | 1 Oct Sat, 4pm-7pm  | |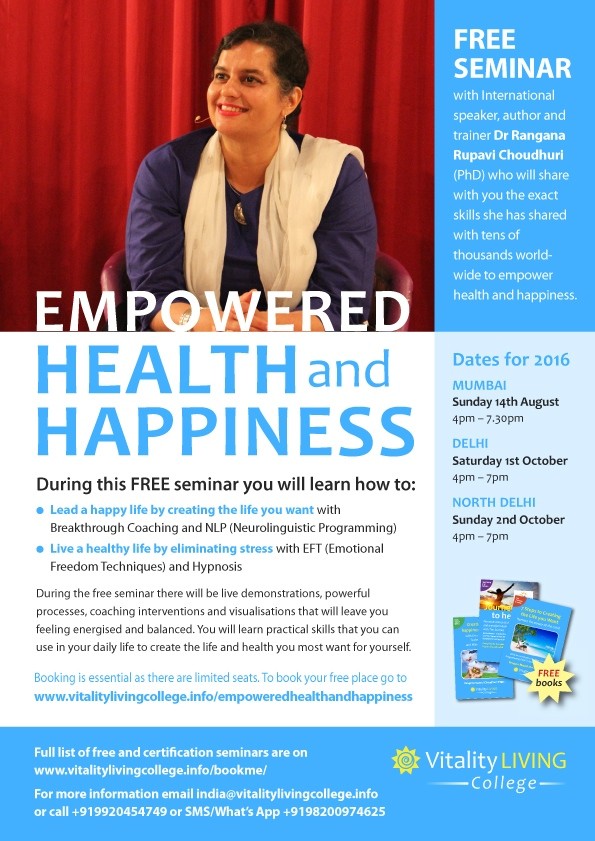 During the Free Seminar  with International speaker, author and trainer you will learn how to:
Eliminate stress to create health, happiness and inner balance with EFT (Emotional Freedom Techniques)
Create the life you want with Breakthrough Coaching and NLP (Neuro-linguistic Programming)
Relax deeply using guided visualisations and hypnosis to empower health and happiness
The places are limited and will be allocated on a first come first served basis so to secure your place please book now and claim your free place:
| | | |
| --- | --- | --- |
| City | Dates 2016 Timings | Register me* |
| Mumbai, Andheri  | 14 August Sun,4pm-7.30pm  | |
| Delhi, Defence Colony | 01 Oct Sat,4pm-7pm  | |
If you want to secure your free place now use the booking links above. So what are you waiting for? Book your free place now.

Last time there was standing room only and those on the wait list could not get in, so do hurry! These it what previous attendees had to share:
By the end of the seminar you will know:
What EFT is, how it works and how to use it in your daily life to create emotional well-being and health.
What Breakthrough Coaching and NLP are and how they can help creating the life you want.
What is Hypnosis and how it can help to relax and rejuvenate deeply.
Watch the video of previous attendee experiences:
Dr Rangana Rupavi Choudhuri is passionate about motivating people – about boosting their confidence and helping them to achieve their true potential. Her clear and proven coaching style has encouraged audiences around the world to move out of their comfort zones – inspiring them to meet and exceed their personal and professional goals, over and over again. More.
The free seminars are highly interactive with live demonstrations, healing processes and therapeutic stories to learn how to feel Happy and at Peace. You will leave being able to use the techniques on yourself as part of your daily life.
Dr Choudhuri will introduce you to the powerful alternate therapy and coaching modalities that will leave you feeling energized and balanced. Specifically, you will learn about clinically proven Emotional Freedom Techniques (EFT), the unique Breakthrough Coaching system, Neuro-linguistic Programming (NLP) and Hypnosis.
EFT has been clinically proven to reduce stress, depression, cravings, negativity and trauma's creating health, happiness and vitality. It is a popular technique used by celebrities, athletes, executives, housewives, professionals, doctors, healers, coaches, trainers and consultants.
Whereas, Neurolinguistic Programming (NLP) is the science of success and can help to create the right mental state to feel relaxed, calm and confident in the workplace or at home. Once learnt it can stay with you for life and you can use the skills in a heart beat to feel good.
Hypnosis is a deeply healing process that can be learnt and used as a means to relax, heal and regenerate.It is clinically proven to heal IBS (Irritable bowel syndrome), reduce physical pain and create deep relaxation that enable a sense of calm.
Who will get the most of the seminar? 
The seminar is ideal for professionals, executives, house wives, teachers, healers, therapists, artists, spiritual seekers, personal development enthusiasts, coaches, consultants, trainers, doctors, nurses, business owners, entrepreneurs and students.
So what are you waiting for? There are limited places and they will be allocated on a first come first served basis. Register above.
What others have to say?
"Rangana is a great facilitator and teacher of this work. Her passion really shines through. She is very open for questions and always has time for you. She is very experienced and a real pleasure to work with." Neela Gohil, Holistic Healer, India
"Now that I have learnt EFT and become a Practitioner with Vitality Living College I am getting more clients and earning a living." Jayant Pawar, Wellness coach, India
"Enjoyed every moment of the workshop. Rangana is just too amazing. Never met a guru like her." Smita Joshi
There are thousands of stories on how attending training with EFT has resulted in healing, personal transformation and change. In the case of Dr Rangana Rupavi Choudhuri, she overcome daily migraines and chronic pain in her body after having learnt EFT. After attending training:
Dr Rajesh healed his back pain completely and now he helps his patients to do the same

Sehjal healed her chronic muscle pain (fibromyalgia)

Working mom Daisy helped her son overcome his learning difficulty

Professor Amin's swelling (edema) cleared

Aparna helped her daughter reduce back pain from bad posture

Michael & Uma overcame their fear of public speaking

Nihal became free from fear of confined spaces (Claustrophobia)

Sreekumar cut through layers of past pain and broke free

Mahalakshmi helped her mom clear her back pain in 15 minutes

Sadhana cleared her negative feelings of the past and was no longer upset when she looked at old photos

Likewise, Breakthrough coaching with NLP uncovers the root issues and creates an inside out change in all aspects of life from health, relationships, career, finances, spirituality and family:
Health coach Zaunty shed an amazing 15kgs in weight by uncovering secondary gains and now, even coaches others.

Chairman Anil found a future direction and created "Aagosh", an expansive new organisation for healing and growth in North Delhi

Artist Nutan, after years of procrastination, started writing the ending of her book

Trainer, Healer and coach Saumya discovered her authentic true self and found the confidence to impart training as well.

Healer Dr Arvinder had a spiritual awakening and found her purpose and divine self

HR Manager Uday healed his relationship with his wife and also became an in-house coach at work, shifting the lives of many others in a positive way.

Business owner and Yoga teacher Dr Kamaraj let go of his hesitations, became more focused with his work and got faster results with patients. 
To learn about these experiences please visit EFT Reviews and Breakthrough Coaching with NLP Reviews.
Learn what previous attendees of the free seminars have to say about it.
Watch what others have to say about training. 
Read press reviews for Dr Rangana Rupavi Choudhuri (PhD).
For the latest dates of all our seminars and courses go to Calendar. To register on seminars and training workshops e-mail india@vitalitylivingcollege.info, call, What's App or SMS: +919920454749 or +919820974625.

To find out more information download 6 life transforming Breakthrough books completely   introduction to EFT, NLP & Matrix Reimprinting.
About Vitality Living College
Vitality Living College is a global learning organisation offering seminars world-wide in stress relief, emotional well-being, communication, confidence and spiritual realisation along with creating certified practitioners, coaches and trainers of EFT, NLP, Hypnosis, Timeline, Journey work, Matrix Reimprinting and Breakthrough Coaching. It is the only global college of its kind dedicated to personal development, emotional wellbeing and spiritual growth.
For the latest schedule of free seminars, certified trainings and transformational workshops go to Book me.
To stay connected with us and to know more about upcoming events Like our Vitality Living College official facebook page Click here.