Graduate Reunions
Togetherness with Dr Rangana Rupavi Choudhuri (PhD), Vitality Living College Reunion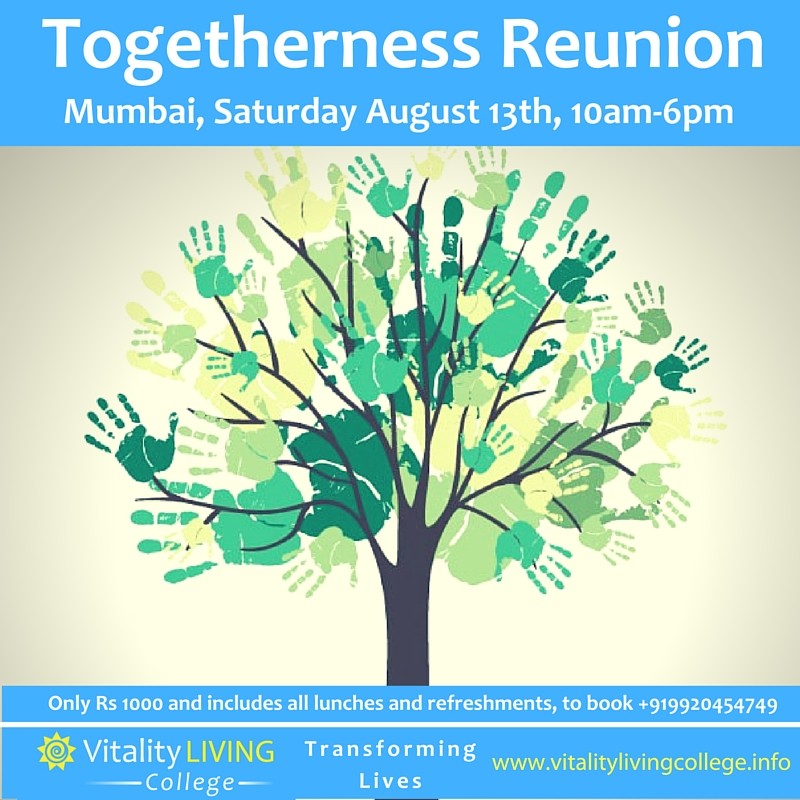 This is a special invitation to those who are graduates of the following Vitality living College programs:
EFT (Emotional Freedom Technqiues) Training
The Journey Healing Seminars
Breakthrough Coaching with NLP programs
It's a time of togetherness, networking, re-union and celebration.
Date & Time: Saturday, 13th Aug 2016 | 09:45 AM to 06:00 PM
Venue: Hotel Residency,Andheri East, Gundavali, Mumbai, Maharashtra, India
The day will be facilitated by Dr Rangana Rupavi Choudhuri (PhD), where she will share new process work, meditations and therapeutic stories.
There will be time for self healing, growth and renewal where a range of topics will be explored:
Freedom
Inner Stillness
Soul relationships
Inner stillness
Love
Peace
Confidence
Abundance
Money
Healing
Growing business
Continuing professional development
As a member of the Vitality Living College Alumni, this day is our gift to all our graduates, where there will be time for healing process work, renewal and rejuvenation. A time of healing, togetherness and love. The only contribution is Rs 1000 for the day towards the lunch and all refreshments.
You can book pay online by clicking on the below link :
http://www.meraevents.com/event/togetherness-vitality-living-college-reunion-with-dr-rangana-rupavi-choudhuri-august-13th-2016?ucode=organizer
Or
To book you place e-mail right back, or call, SMS or What's App Meghna on +919920454749