EFT Level 2 Practitioner
Congratulations EFT Level 2 Practitioner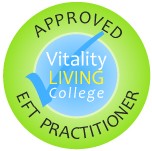 Congratulations on becoming a Certified EFT Practitioner with Vitality Living College & an AAMET Accredited Master Trainer of Trainers.
Really congratulate yourself as you have completed the required training, demonstrated your skills during the training days, passed the multiple choice, successfully completed all your case studies and submitted your practice log (for those who completed training after April 2016).
You can now proudly say that you have completed is at the highest level and you can provide the same standard to your clients.
For those of you who are planning to charge your clients for sessions we advise that your charges are above the market average and reflect superior quality training. For example
India – Rs 3000 per 1 – 1.5 hours
US – $100 per 1 – 1.5 hours
As an EFT Certified Practitioner you are signing up to:
Every year you have to complete 30 hours of Continuing Professional Development, of which 6 hours are Supervisions hours. Full details are in the document above.
You can make a log or record of your Continuing Professional Development and Supervision hours below:
VLC CPD & SUPERVISION RECORD LOG SHEET
Now that you an EFT Certified Practitioner with an AAMET Accredited Master Trainer of Trainers you have the option to become an Accredited AAMET EFT Certified Practitioner and then register as a professional practitioner on their site (as AAMET is an independent organisation there is a registration fee involved).
In order to become Accredited you need to send your trainer an e-mail and or What's App message confirming you would like to apply for Accreditation status and then:
Complete an on-line exam via the AAMET international website (there is an admin fee)
Submit 50 practice sessions 25 different clients (if you have not done so already – this is mandatory for those who completed training after April 2016)
Complete 6 hours of one to one supervision with your Accredited Master Trainer of Trainers
If you feel you are ready to kick-start your private practice please go to Business start-up to get yourself started.
If you wish to continue your learning journey with EFT your next step will be Matrix Reimprinting Practitioner and then EFT Level 3 Practitioner Training.