EFT Level 2 Practitioner
Congratulations EFT Level 2 Practitioner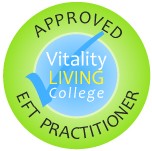 Congratulations on becoming a Certified EFT Practitioner with Vitality Living College & a EFT International Accredited Master Trainer of Trainers.
Really congratulate yourself as you have completed the required training, demonstrated your skills during the training days, passed the multiple choice, successfully completed all your case studies and submitted your practice log (for those who completed training after April 2016).
You can now proudly say that you have completed is at the highest level and you can provide the same standard to your clients.
For those of you who are planning to charge your clients for sessions we advise that your charges are above the market average and reflect superior quality training. For example
India – Rs 3000 per 1 – 1.5 hours
US – $100 per 1 – 1.5 hours
As an EFT Certified Practitioner you are signing up to:
Every year to renew your certificate it is necessary to complete 30 hours of Continuing Professional Development (CDP) hours is needed and 6 hours of Mentoring Supervision and attend one of the EFT seminars as an assist team member, resit or first time delegate. Examples include:
EFT Practitioner Training
EFT Advanced Practitioner Training
Inner Child Matrix Training
You can make a log or record of your Continuing Professional Development and Supervision hours below: