EFT Level 2 Practitioner VLC
Congratulations EFT Level 2 Practitioner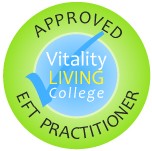 Congratulations on becoming an EFT Practitioner with Vitality Living College.
Really congratulate yourself as you have completed the required training, demonstrated your skills during the training days, passed the Multiple choice exam as well as successfully completed all your case studies.
You can now proudly say that you are a Vitality Living College Certified EFT Practitioner and have been trained to a Superior Global Standard with a College that is certified as a Trainer of Trainers. The training you have completed is at the highest level and you can provide the same standard to your clients.
For those of you who are planning to charge your clients for sessions we advise that your charges are above the market average and reflect superior quality training. We only certify those Practitioners who operate at the highest level and meet or exceed the Global Standards.
If you are not already a member, please do join our facebook EFT community where you can ask your questions, share success and meet other EFT Practitioners. This is a secret group to ensure the discussions remain private.
As part of becoming an EFT Practitioner with Vitality Living College you are also signing up to a code of conduct which entails completion of 30 hours of Continuing Professional Development hours and 6 hours of either one to one or group supervision/mentoring.
There is a nominal charge for the 6 hours of mentoring and supervision. There is no charge toward assisting on training which can count towards your Continuing Professional Development and not your Mentoring & Supervision. 
Please keep your own log of continuing professional development as I conduct spot checks from time to time. For ease I have attached 4 documents:
1. VLC CPD and Mentoring Requirements
3. VLC Code of Conduct and Ethics

4. Learning & Development Plan
If you feel you are ready to kick-start your private practice please go to Business start-up to get yourself started. If you wish to continue your learning journey with EFT your next step will be EFT Level 3 Practitioner Training.